BARCELONA BLUEGRASS CAMP
MARCH 4TH, 2017
–
A whole day learning bluegrass in a variety of instruments, classes, jams and closing concert by teachers and pupils. Banjo, guitar (flatpicking and fingerpicking), harmonica, fiddle. All levels are welcome!


Price: 65€; Lunch: 11€

¡Attention! Discounts if you pay in advance:

50€ until November 30th (pay cash in Al Ras – November 11th/12th – and save bank commissions)
55€ until December 31st.
60€ until January 31st.
Location:
Centro Cívico La Sedeta
C/Sicília 321
Gràcia, Barcelona
http://ccivics.bcn.cat/lasedeta
Organization: Al Ras
Collaboration: Centro Cívico La Sedeta
LIMITED PLACES: 15 STUDENTS PER CLASS
INFO AND RESERVATIONS: Xavier Cardús, xavier20@hotmail.es
Josep Traver
Guitar-Flatpicking
Josep Traver (Barcelona, 1968) obtained a master degree from the Escola Superior de Musica de Catalunya. Currently combines teaching at the Escola de Música Moderna de Badalona with pedagogical auditions, concerts and recording sessions. He has published articles in guitar magazines and has recently issued the book "La guitarra acústica bluegrass".
He has played with Tom Corbett and The Wild Turkey Band, among others, and his main influences in bluegrass music are Clarence White, Doc Watson, Tony Rice and Russ Barenberg. He has performed in Jazz Festivals and theatres in Spain, England, France, Switzerland, Italy, Ecuador, Brazil, Uruguay and EEUU.Ha tocado y grabado el género bluegrass con The Wild Turkey Band y Tom Corbett. Sus referencias dentro de este estilo son Clarence White, Doc Watson, Tony Rice y Russ Barenberg. Ha realizado conciertos en España, Inglaterra, Francia, Suiza, Italia, Ecuador, Brasil, Turquia, Sudafrica, Japón, Uruguay y EEUU.

Joan Pau Cumellas
Harmonica
Joan Pau is one of the leading exponents in Spain of the diatonic harmonica which he loves to push to the limits exploring its possibilities in different musical context.
Whether he is playing bluegrass, blues or swing manuche he takes the instrument up to surprising level. His versatility, has also allowed him to play with a diverse range of artists on the rock-pop, country and jazz Spanish stage and his harmonica music can be heard in more than 50 cds.
Joan Pau plays at numerous festivals in Spain and is well known in the European countries for it's participation in Blues and Bluegrass events.
He does harmonica jingles recordings for advertising announcements and musical sessions for radio, television and cinema.
He also is harmonica teacher in Barcelona, does workshops in different festivals, and makes harmonica sessions for children at schools.
Lluis Gomez
Banjo
More than 15 years of playing and teaching the five-string banjo , member of several musical groups with which he has performed around Europe and USA. Autor of several books and contributor to magazines around the world, director of the Al Ras festival and the Barcelona Bluegrass Camp. It has been taught by Tony Trischka , Noam Pikelny , Pete Wernick , Jayme Stone, Jean Marie Redon , Ricky Araiza and Sedo Garcia among others.
Miguel Talavera
Guitar-Fingerpicking
Guitar virtuoso, specially on the "finger – picking" technique, used by the best acoustic guitar players.
A way of playing that fits very well on blues, jazz, country and bluegrass music. Miguel has accompanied such different national and international artists. He also works as soloist , composer and performer with own musical projects . He's a member of the Barcelona Bluegrass Band.
Oriol Saña
Fiddle
Oriol Saña was born in Granollers and he studied in Berklee College of Music (Boston) with Darol Anger, Mimi Robson (Bachelor's Degree), "Le Centre des Musiques Didier Lockwood" (Paris) with the violinists Didier Lockwood and Johan Renard. Later he studied the "Títol Superior de Música en Jazz" (Bachelor's Degree) from "l'Escola Superior de Música de Catalunya" (ESMUC), Master Degree in Didactics of music and Musicology and Ph Doctorate studies in Art History and Musicology at the "Universitat Autónoma de Barcelona" (UAB).
He teachies jazz and modern violin at "Escola Superior de Música de Catalunya- ESMUC" , Conservatori Superior de Música del Liceu and l'EMCA (Escola de Música centre de les Arts de l'Hospitalet del Llobregat). His musical career developed combining work in both the classical and popular music fields and he participated in numerous music festivals in USA, Singapore, Italy, Germany, England, Finland, Ireland, Greece, France, Estonian, Hungary and Spain.
(Photo: Mira Audiovisual)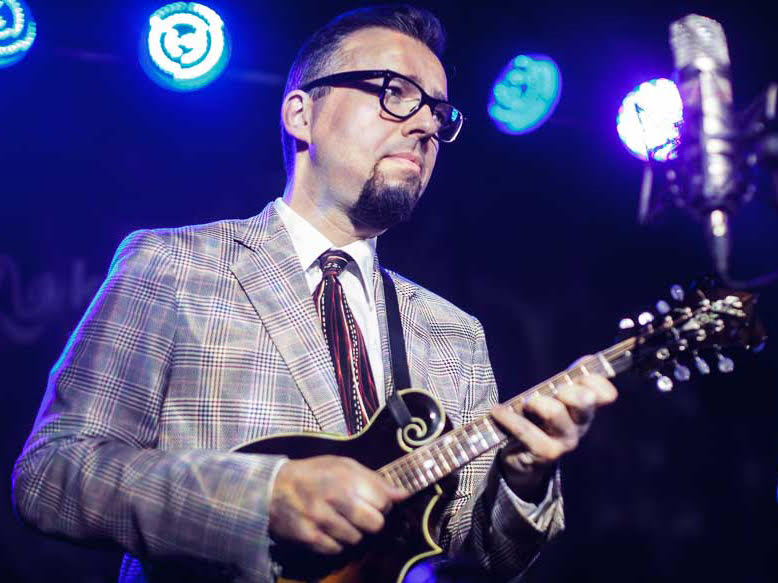 Roberto Cubero
Mandolin
I am a self-taught player. I picked up my first mandolin more than 20 years ago switching from traditional laud, and devoured all the classic and contemporary bluegrass records that I could. I cut my teeth on the Americana music circuit. However I was missing the traditional Castilian music and with my brother Quique we launched Los Hermanos Cubero. This opened for me a new world of possibilities with the mandolin, finding my own identity without renouncing my influences. More recently I have had the opportunity to study with top-notch musicians such as Jesse Brock (Michael Cleveland & Flamekeeper, Gibson Brothers) and Holly Odell (John Hartford) to go deeper into the mandolin.
With Los Hermanos Cubero we have played all kinds of festivals, halls and theaters, and we have shared the stage and / or collaborated with all kinds of bands such as Los Planetas, Kepa Junkera, Manuel Luna, Los Deltonos and Guadalupe Plata.
Henrich Novák
Dobro
Henrich Novák lives in Bratislava, the capital of Slovakia. Through the years he has played with many national and a several international bluegrass, country or acoustic music oriented bands, either as a regular member or on a semiregular basis - Zrnko, BG Album, Nuggett-Austria, Vabank Unit, Allan Mikusek Band, Electric Blues Band, Lilly of the West-Bulgary, Petr Brandejs Band, Fields and Thompson, Rough and Rocky Road, Bill Faster and Fragment. With this band, he toured the United States for 11 times and recorded 10 albums.
He also accompanied on their European tours the late Rose Maddox, Jack Tottle, The Chapmans, Johnny and Jeanette Williams, Chris Stuart and Backcountry.
He was awarded by John Dopyera Award (1991, 1994), Best Dobro Player at the European Bluegrass Band Championship in Vienna, Austria (1997), Slovak Bluegrass Music Association Dobro Player of the Year (1999, 2000).
In 2002 he became the first official Dobro instructor in the School of Music in Trnava. Besides private lessons, he organizes his own Resoland Workshops and teaches regularly at workshops and music camps all over the Europe (Musique Acoustique in Virton BE, Minieracoustica in Urbino IT, Adiaha's Bluegrass Camp, GE to mention just few of them).
Henrich is recently a freelancer playing with anybody who seeks for top rated Dobro playing.
Maribel Rivero
Double Bass
Trained as a classical guitar player, she has been working for years as a double bass player. She has backed up various northamerican artists in tours around our territory (Bill Keith, Tom Corbett, Tony Trischka, Henrich Novák, Chris Luquette among others…), she was part of the "Orquestra Cambra Canticela and the Big Band of the music school of Badalona, directed by Carlos Vecino. She combines these activities with teaching in music schools around Catalonia, and she is involved in musical projects like the the Barcelona Bluegrass Band, Les Violines, Grazztrio, Swing 42, to mention a few.
David Prat
Banjo-Clawhammer
David Prat begins to play the banjo in 1994 , in a first moment Scruggs Style, at a later date when he found out about Old time music he started to learn Clawhammer.
During these first years also begins his adventure as a luthier of Banjos and Appalachian Dulcimer .
To know more deeply the style he has traveled in several occasions to the United States. In 2009 David spends 3 month in Kentucky learning and studying the Old time Tradition, history ...
During these years he has shared the path with musicians like, John Balch, Mitch Depew, Joe Herrmann, David McLaughlin, Lena Uría, Adam Hurt ...